A-ou
from the anime
Kiddy Grade
.
A-ou is
Un-ou
's teammate, and his ability is Amplifier, same as
Un-ou
. His ship is Salyut, he speaks in a deep meaningful way, and his eyes can see anything.
Aion
from the anime
Chrono Crusade.
The personality of Aion from the manga and Aion from the anime differ greatly from each other. In the manga, he doesn't care about his allies (the other four sinners that are working with him), while in the manga he does care, although he is still willing to sacrifice them if it gets him closer to his goal. In episode 16 of the anime, Aion sexually harasses Satella. In the manga, this has never occurred. Matter of fact, he didn't even meet Satella before he turned into his demonic form, after
Chrono
lost his mind since
Rosette
was hurt. Also, the kisses he gives to
Rosette
never happened in the manga. Another change is that in the anime, Aion still lives even when
Chrono
slashes him in Central Park.
Aisha Clanclan
from the anime
Outlaw Star
.
Aisha Clanclan belongs to one of the noble
houses
of the Ctarl-Ctarl Empire. From a young age, she excelled in her classes...but the highest honor in Ctarl-Ctarl society is to go into space. Finally, Aisha won her place in space when she was promoted to the rank of Ambassador Plenipotentiary and given command of the
Orta Honehone
.
Akio Ohtori from the anime Revolutionary Girl Utena. Akio is the charming and attractive villain who seduces the heroine Utena. He controls the Rose Duels and the Ohtori Academy from behind the scenes. Ohtori is an exploitative character who manipulates others into serving his purposes. He also carries on a dominating, incestuous relationship with his sister Anthy. The character of Akio, despite its negative aspects, is still not wholly detestable - he did not have much of a choice when he went down the wrong path.
Akuma
from the videogame
Street Fighter
. Akuma is a character with a wide array of techniques at his disposal. He has the same moves as Ryu and Ken, only in a more balanced and damaging way; however, his life is lower than either Ryu or Ken. He also has many other moves, but in most games, his attacks in his regular form have been toned down, in exchange for more stamina. Shin Akuma uses the same techniques to their full extent, but to compensate, has very low life.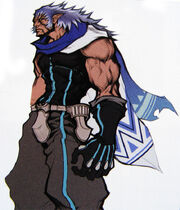 Azul from the videogame series Final Fanatsy. Azul the Celrulean is one of Deepground's elite soldiers known as the Tsviets. He possesses massive size and incredible strength... he is so strong that he uses a tank's cannon as his weapon of choice. In addition to his physical strength, Azul also has the ability to transform himself into behemeth-like creature. It was in this form that he laid waste to much of WRO headquarters.